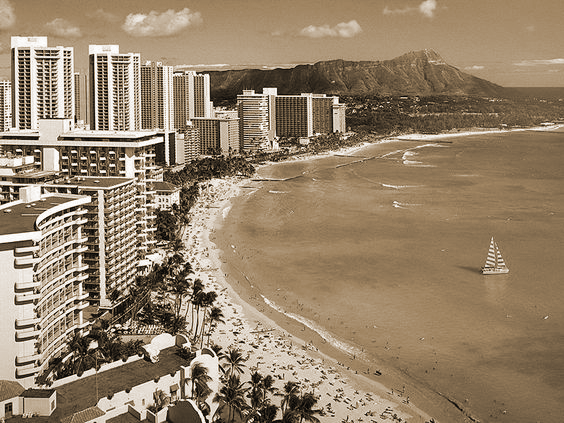 My prepper instinct was born in Hawaii, in 1971. Which is kind of strange because I wasn't born until a few years later, but in 1971 the International Longshore and Warehouse Union (ILWU) went on strike, shutting down shipping to and from Hawaii for 134 days. And, poof! Supply chain cut. The Hawaiian Islands, and everyone living there, had to get by for 134 days on what they had, or what they could make. And that meant, unless it was a pineapple, sugarcane, or a chord played on a Uke, if you were in Hawaii in the second half of 1971, you weren't going to get it.
Like I said. I hadn't been born yet, but my mother was living in Hawaii at the time. And it affected her.
Growing up I would go to a closet and find a basket of a dozen toothbrushes, a stack of soap good enough for thousands of showers, many dozens of rolls of toilet paper, and enough dental floss to last for years. I'd take what I needed – maybe one of the twenty boxes of tissue paper – and get on with my life. We drank re-constituted dehydrated milk, made our own orange juice from the stock of frozen concentrate in the freezer, ate frozen vegetables and tofu!
(In fairness, the tofu might not have been related, but I prefer to give my mom the benefit of the doubt – she was doing it because of the strike-related-trauma, not because she liked to torture me…)
All of this was because that 1971 ILWU strike – and living through the consequences of it – had changed my mother's outlook.
And it changed me too, I guess. Because thirty-five years later I got a house of my own. Before long I bought three big storage racks, put them in the garage, and bought toilet paper, paper towels, batteries, ketchup, rice, spam (yay for spam), sodas, canned foods, soap, shampoo, and about a dozen other things – all enough to last me for months. I didn't think too much of it. It's just what you're supposed to do, right?
Well now corona virus has arrived, and I'm very happy for that 1971 strike. Because I've moved a small piece of my personal supply chain into my house. That means I don't have to rush to the supermarket the moment I hit the last roll in one of my bathrooms – I just go to the garage. I'm not sure I have enough to last through the current crisis. But I have enough to take some pressure off the supply chain, to let others get what they think they need at the start of it. I even have a box of N95 masks I plan to donate to evergreen hospital (my closest hospital, and the center of the US outbreak) on Monday.
So what?
The reason I'm writing this is to share one possibility about how this corona outbreak is going to affect our children and their children. I bet houses built 5 years from now will have extra pantries, extra storage space in their garages, extra closet space in their bathrooms, extra storage in their attics. And I bet most of the people who buy those houses are going use the space to keep three months of toilet paper on hand. If that 1971 strike is any guide, this might go on for the next fifty years.
And here are some tips to help you get started, for when this corona crisis is past – please wait for COVID-19 to pass and build your own personal supply chain during the good times, not during the crisis:
Get some shelving units
I like this style of wire shelving. They are easy to assemble, light to move, incredibly sturdy – and I think they look kind of neat. I have three of them in my garage (although I left off the casters). You might also like to get some shelf liners and dividers.

Install garage organizers
You'll be surprised how much you can store in your garage without using any floor space. And installing these modular shelving kits was so easy that even I could do it…

Get some bins
you can stack stuff on your shelves, but many things don't stack well (especially on wire shelves), like batteries or sticks of deodorant. Bins like these can help you make much better use of your space. There are all different sizes, so shop around and get a variety.

Use a label maker
Label your bins. Well, first, make sure you get bins with see through sides. But then also put labels on them. I put labels on the front, one side, and the top, so you can see what's in them when they are stacked on a shelf and when you have them piled up because you're reorganizing.

Never use your last thing
Identify your staple items and keep at least one backup. If you're ever using your last thing – bottle of ketchup, bag of rice, box of detergent, whatever – get another one to replenish your stockpile. For these things I like to keep a running amazon pantry order, and add things to it for several weeks before submitting – helps cut down on waste and packaging.

Find your local food bank
I've had three major food bank trips over the years because the things I bought were getting near expiring. Sometimes it happened because I changed my tastes and didn't want to eat the stuff. Sometimes it happened because I super miscalculated how much ketchup I could use in six months… But I don't see this as a failure. I see it as a great opportunity to help others while focusing my stores on things I actually like and use. Tastes change. It's OK.